Mary L. Nohl Art Environment
By J.R. Manning
March 29, 2014
One of the ten most endangered historical sites in Wisconsin has met its fate, and no one appears to be a winner in this case. The modest cottage of Mary L. Nohl and all her artwork will be relocated to Sheboygan as part of the John Michael Kohler Arts Center, which owns the art site. The Nohl site is precariously located in an affluent suburb of Milwaukee that grew up around the cottage in Ms. Nohl's lifetime.
Mary L. Nohl was a very creative woman, an artist who dedicated her life to her art. Sometimes labeled an eccentric, she spent almost all of her reclusive life in a modest cottage on the shore of Lake Michigan, built by her parents, Leo and Emma Nohl.
Although she had extensive education in the arts, she abandoned classical art and created directly from her soul, her wit and whimsy displayed in her environment. She created a lifetime of sculptures and oil paintings in her home, with most of the sculptures displayed in the yard.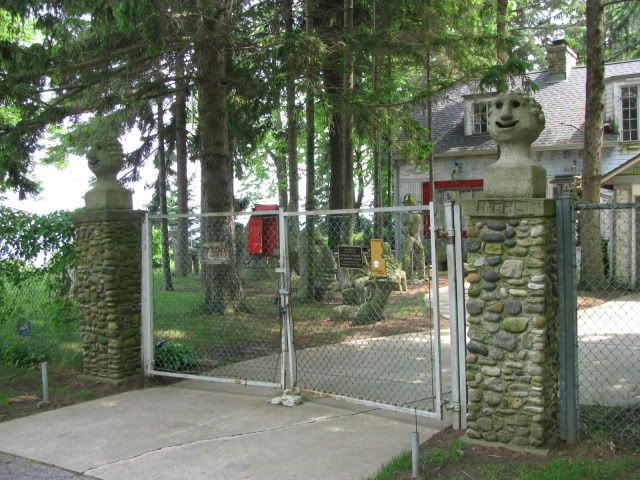 Mary helped her father build these gate pillars during her 12th summer. (It is assumed that she added the figures years later.) The sand and rocks were hauled up from the beach in Mary's red wagon. She continued to use that wagon for hauling art materials from the beach over her lifetime.
All of this has been much to the dismay of some of her neighbors, consisting of large estates in this current-day affluent neighborhood. Several urban myths have grown up around the environment, sometimes known as "The Witch's House" some because of her reclusive lifestyle, some because of a huge sculpture with three eerie figures (no longer on display on the property.) She took it all in stride, even creating a mosaic on her front porch that spells. "BOO!"
Her brother, Maximilian, was educated at MIT and was a noted marine engineer that set a deep sea diving depth record in Lake Michigan. In 1960, Max and his wife, Eleanor, died tragically in a two-car automobile accident near Hope, Arkansas, leaving Mary the sole surviving heir.
The Wisconsin Preservation Trust listed the Nohl property as one of the ten most endangered sites in Wisconsin. A very vocal minority of Fox Point residents has actively campaigned in the past to have the site demolished, as they consider it an eyesore. Not all residents feel that way and many are proud of the community's unique treasure, but apparently, not enough of them. The Trust said not long ago that "...without support from within and outside the Village of Fox Point, the Kohler Foundation will be forced to develop an exit strategy and the art and home will have to be removed from the site."
The announcement on March 27 brought the Trust's prediction to fruition.
According to the Kohler Arts Center, the cost of moving the environment will be between one and two million dollars. Upon completion, the extremely valuable property will be sold to help defray the relocation costs. Plans are to reassemble the cottage and collection near Lake Michigan, allowing more access to artists and the public. A guard is on site 24 hours now, and Kohler Arts Center officials say security is being stepped up in the wake of this announcement.
There are many challenges facing the move. Almost every inch of the cottage is carved, painted, or displays Ms. Nohl's artwork. Much of her art is very delicate, made from elements that washed up on shore. The hundreds of concrete sculptures that adorn her yard will also require special care.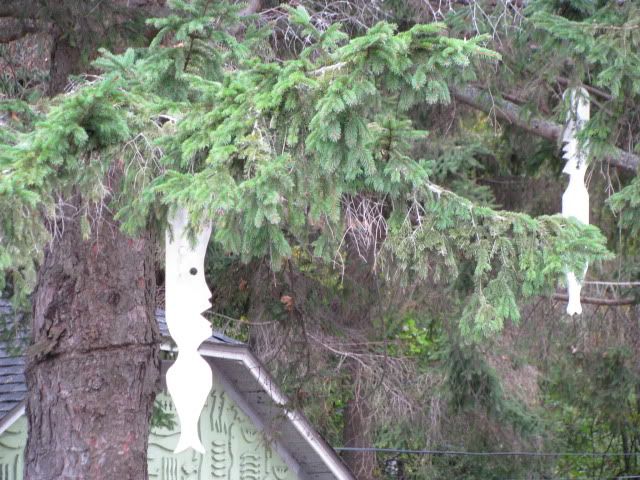 Ms. Nohl decorated the outside of her home with colorful panels made with driftwood figures and cut-out wooden silhouettes. Even more wooden silhouettes dangle from tree branches. Many of the silhouettes were formerly pickets of a fence that she was forced to remove because of damage caused by vandals.
A complete report about the move was published by the Milwaukee Journal-Sentinel on March 27, 2014. Mary Nohl House to Be Dismantled and Moved.