Burlington Downtown Historic District
By J.R. Manning
February 03, 2016
A 22 year old genius has been charged with vandalism in the damage done to an eight foot tall statue of Abraham Lincoln in Burlington, Wisconsin. The senseless act took place last Saturday, January 30. Charges were leveled on February 2.
Jacob Hinds of Burlington, allegedly toppled the statue by pulling it over with his pickup truck and a tow strap. The 22 year old was charged with felony criminal damage to property.
The statue was created by George E. Ganiere of Chicago, a 1912 gift of dentist Francis Meinhardt to mark the opening of Lincoln School. The statue is just outside the boundary of the official NRHP district, but is considered a local landmark. The statue was restored in 2014 and rededicated at that time.
Burlington Mayor Robert Miller said the damage was in excess of $2,500. The statue is currently being stored by the parks department, awaiting restoration. The firm that restored the statue in 2014 will likely be contracted to repair damage caused by Hinds' action.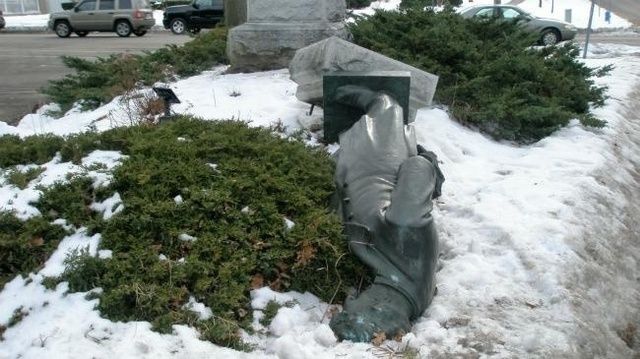 Photo by Burlington Historical Society
A citizen came upon the toppled statue shortly after the act of vandalism occurred and called police. According to the criminal complaint, police followed tire tracks to a parking lot where a Chevrolet truck was parked that matched the witness description. A tow strap was dangling from the passenger side of the tailgate. Police said the tires were still wet and the engine was warm. The truck is registered to Hinds.
Hinds faces up to 1-1/2 years in prison and up to $10,000 in fines. He has an extensive record, mostly of traffic violations. As of this writing, an accomplice is still at large.