Northwestern Branch, National Home for Disabled Volunteer Soldiers Historic District
By J.R. Manning
August 04, 2016
The U.S. Department of Veterans Affairs (VA) has selected a local team's proposal to rehabilitate and restore six of the Milwaukee Soldiers Home District buidlings for the service of veteraans.
The Alexander Company of Madison and the Housing Authority of Milwaukee plan to renovate the six buildings in 100 housing units. Primary is the restoration of Old Main (officially #2) the most recognizable building in Wood, designed by Milwaukee's prominant architect. William Townsend Mix. Its distinctive tower is one of the first elements seen by visitors to the VA facility. The other five buildings are the Administration Building (#1) the Catholic Chaplain's Quarters (#14) and three duplexes, (#18, #19 and #62.)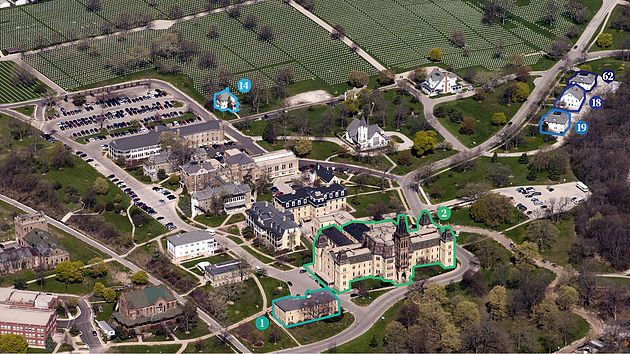 Buildings to be restored, outlined in blue.
Funding will come from the Enhanced Use Lease (ELU) option with the structures leased to The Alexander Company who will take on the cost of rehabilitation.
The area is officially known as the Northwestern Branch, National Home for Disabled Volunteer Soldiers Historic District. Better known locally as the VA Center at Wood, it is one of the original three "Old Soldiers' Homes" signed into law by President Abraham Lincoln just prior to his assassination. One of Milwaukee's most prominant architects, Edward Townsend Mix designed the most distinctive structure, Building #2 known as Old Main.