By J.R. Manning
December 17, 2018
A developer in San Francisco has been ordered to rebuild a historic home, designed by Richard Neutra, that he illegally demolished to build on the site.

All that remains is the garage door and frame.
Google Street View.
According to the San Francisco Chronicle, Washington Post and several other news outlets, the Largent House, a 1936 Twin Peaks neighborhood, Richard Neutra design, at 49 Hopkins Avenue, was demolished to make room for a much larger house that was proposed for the site.
In a 5-0 vote, the San Francisco City Planning Commission ordered that the property owner rebuild an exact replica of the house and place a sidewalk plaque that describes the original house, its demolition and the replica that replaces it.
The owner had received permission to remodel the extant house with virtually no changes to the first floor. After the demolition, the owner applied for a retroactive demo permit and plans to build a 4,000 square foot house to replace the 1,500 square foot Largent House. The owner paid $1.7 million for the Largent House that was demolished.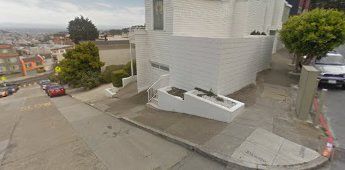 Before the demolition.
Google Street View.
Richard Neutra was an important architect of his era and Largent house was one of only five Neutra houses were built in San Francisco. The planning commission hopes this sends a strong message to developers who ignore building laws. The action strikes a blow for historic preservation.
Link: SF to developer who tore down landmark house: Rebuild it exactly as it was published December 15, 2018.
Link: Now he must rebuild an exact replica Washington Post, December 17, 2018.