Van Loon Wildlife Area Truss Bridge TR
View Exhibit map
The McGilvray "Seven Bridges" Road and Van Loon Natural Area is listed on both the National and the Wisconsin Register(s) of Historic Places for the historical significance of McGilvray Road and its bridges.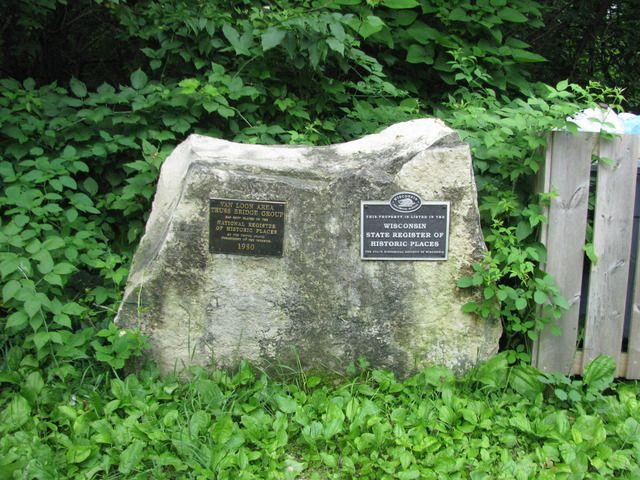 Alexander McGilvray saw an opportunity in 1854 and launched a ferry across the Black River. In 1892, the county built a steel bridge across the river, ending the ferry service. Since McGilvray Road went through backwaters of the Black River and a slough, six wooden bridges were built. The moist environment wrecked wooden bridges quickly, so between 1905 and 1908, a series of five bowstring truss bridges were built with one wooden bridge left behind.
The road was closed in 1948 due to flooding, and in 1954 the steel truss bridge was removed. The five bowstring truss bridges remain in place and a fifth pony truss bridge was relocated here to replace the wooden king post truss bridge, removed before it failed. The maintenance of the old bridges is accomplished with volunteer labor, the Friends of McGilvray Road in partnership with the Wisconsin DNR.
Bowstring trusses, one time plentiful, are now rare and only eight examples remain in Wisconsin - five of those eight are on McGilvray Road.
As for the hiking, well, nature has pretty much consumed McGilvray Road, popularly known as Seven Bridges Road. It is a hiking trail, being slowly developed by the Friends of McGilvray Road. You can take the 1.8 mile hike to the Black River, see the original truss bridges and experience a piece of La Crosse County history yourself.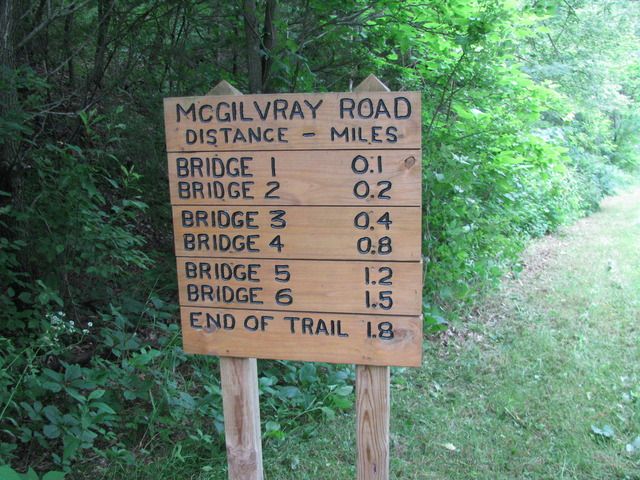 Dress appropriately and wear good hiking shoes.The day I visited McGilvray Road, I met a couple on the trail. He was wearing sandals. Not smart. She was wearing cross trainers, not much smarter. Both were wearing shorts - really not smart as the mosquitoes were matched in size and maneuverability to a P-38. No motorized vehicles are allowed, in fact, no vehicles are allowed at all, including no bicycles.
---
Bridge No. 1
(La Crosse County, Wisconsin)
First of six bridges on McGilvray Road
Bridge No. 2
(La Crosse County, Wisconsin)
Second of six bridges on McGilvray Road
Bridge No. 3
(La Crosse County, Wisconsin)
Third of six bridges on McGilvray Road
Bridge No. 4
(La Crosse County, Wisconsin)
Fourth of six bridges on McGilvray Road
Bridge No. 5
(La Crosse County, Wisconsin)
Riveted Warren pony truss relocated here in 1996 from Pierce County, Wisconsin
Bridge No. 6
(La Crosse County, Wisconsin)
Sixth of six bridges on McGilvray Road
McGilvray Road Marker
(La Crosse County, Wisconsin)
Historical Marker at the McGilvray "Seven Bridges Road" Trailhead