Cyril Colnik
View Exhibit map
Cyril Colnik was a blacksmith by trade, but he was an artisan of the highest esteem. Lured to Milwaukee by Captain Frederick Pabst after the 1893 Columbian Exposition in Chicago, Colnik opened a shop and churned out thousands of iron works of art that can be found all around Milwaukee. Colnik's beautiful iron gates, window grates, balcony railings, decorative works, can be found all over Milwaukee. A permanent collection of his work can be seen at Villa Terrace, willed to the museum by Cyril Colnik's daughter, Gretchen. She was a celebrity in Milwaukee of her own right, and she thankfully preserved samples of her father's spectacular work.
Cyril Colnik was born in Trieben, Austria in 1871. His father was the veterinarian to the King of Austria (think, "Lippizaner") and Cyril grew up in that world. There was a blacksmith shop on the grounds of his childhood home and he took an interest in blacksmithing at a young age. He was also a talented artist, and surviving drawings show an aptitude for art such that Colnik could have had a career as an artist. As it turns out, he combined his talent for art with skill in blacksmithing to become a true artisan in iron.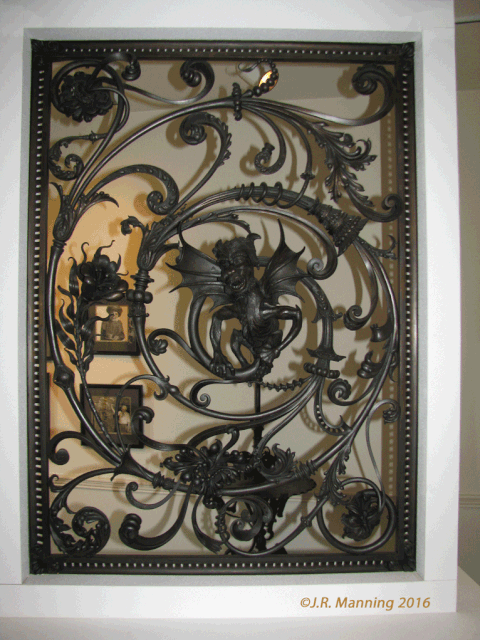 Cyril Colnik's Masterpiece.
Part of the Gretchen Colnik Collection.

He came to the 1893 Chicago Exposition, the White City, to aid Reinhold Kirsch with the German ironwork exhibits.
He had knowledge of the "German Athens" in Wisconsin, and there is some question as to how this young man, speaking only German, wound up in Milwaukee. Some think he was lured by Captain Frederick Pabst, the beer baron, accepting commissions for the Pabst Mansion and his fabulous Pabst Theater. Colnik also accepted commissions from Herman Uihlein of the Schlitz Brewing Company and other successful German immigrants in Milwaukee.
Colnik opened a shop on N. 8th Street (demolished) and hired more blacksmiths to help create his ornamental ironwork. He was prolific and a true artisan, but except for one work of art, Colnik never signed his work. To this day, it's a lead pipe cinch that any ornamental ironwork in the Milwaukee area was probably the work of Colnik and his artisans. However, unless there is an architectural record, it cannot be proven if ironwork is his or from some other shop. Many architectural drawings simply state, "Ornamental ironwork design by Colnik."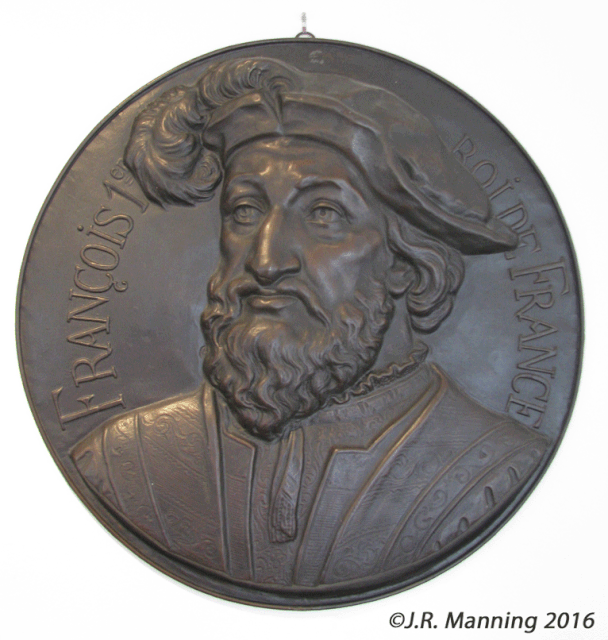 A Bas Relief portrait. Bas relief in
ironwork must be hammered out
from the reverse side of the work.
Part of the Gretchen Colnik Collection.

Some of Colnik's most prolific works appear in Milwaukee's City Hall. There are 15 floors, and those that face the open atrium have railings with inserts and newells by Cyril Colnik, featuring his "dancing dragon" design.

The Dancing Dragon, as seen in the railings
of Milwaukee's City Hall.
Part of the Gretchen Colnik Collection.

His daughter, Gretchen Colnik, became a Milwaukee celebrity in her own right, known for her glorious hats. She kept a private collection of her father's works, and willed the collection to the Villa Terrace Decorative Arts Museum, where the collection is now on permanent display. The museum is located in the Lloyd R. Smith House in Milwaukee's Water Tower Historic District.
Several structures that utilize known works of Colnik's iron art are listed on this website.
~J.R. Manning, September 2016
---
Forest Home Cemetery and Chapel
(Milwaukee County, Wisconsin)
You can learn a lot of history in a cemetery - if you know the story behind the name
Frederick Pabst House
(Milwaukee County, Wisconsin)
Flemish Revival, ornate mansion, now serving as a museum.
Gustav Trostel House
(Milwaukee County, Wisconsin)
Flamboyant Gothic Revival house resembling a Eurpean castle
Herman Uihlein House
(Milwaukee County, Wisconsin)
Renaissance Revival and Beaux-Arts mansion built of Bedford limestone quarried in Indiana
Joseph B. Kalvelage House
(Milwaukee County, Wisconsin)
German Baroque Castle loaded with Terra Cotta and ironwork by noted local artisan, Cyril Colnik
Lloyd R. Smith House
(Milwaukee County, Wisconsin)
Styled in the fashion of Villa Cicogna Mozzoni in Lombardy, Italy by noted Chicago Architect, David Adler
Milwaukee City Hall
(Milwaukee County, Wisconsin)
Flemish Renaissance building with distinctive bell tower known by viewers of Laverne & Shirley
North Point North Historic District
(Milwaukee County, Wisconsin)
Northern half of Milwaukee's North Point Historic District
Orrin W. and Henrietta H. Robertson House
(Milwaukee County, Wisconsin)
Lakefront house modeled after Chateau d'Azey-le-Rideau
Pabst Theater
(Milwaukee County, Wisconsin)
Protestant Home for the Aged
(Milwaukee County, Wisconsin)
Retirement community located in Milwaukee's east side
St. Mary's Hospital
(Milwaukee County, Wisconsin)
Beaux Arts stone and terra cotta building, the heart of the enormous St. Mary's complex
Victor L. Brown House
(Milwaukee County, Wisconsin)
Picturesque Tudor Revival Manor House
Wisconsin Memorial Park
(Waukesha County, Wisconsin)
One of the largest cemeteries in Wisconsin