Apostle Islands Lighthouses MPS
There are six lighthouses that guide ships past the 22 Apostle Islands. They were all added to the National Register of Historic Places in 1977 with number 77000145. The Devils Island light was the last of the six to be automated, and was manned until automation in 1978. Prior to that, the light tenders also performed maintenance on the other Apostle Island light houses.
Only five listings show up here, that is because there are two lights on Michigan Island, adjacent to one another.
There are other lighthouses in the area, but they are not a part of the Apostle Islands National Lakeshore, therefore, they are not part of this listing.
The Apostle Islands are an archipelago of 22 islands, just off the coast of Bayfield Peninsula in Lake Superior. All but 4 of the islands are considered a part of Ashland County, the four westernmost islands are a part of Bayfield County. Madeline Island is the largest of the group but is commercially developed, including 247 year round residents, so it is not a part of the National Lakeshore.

The Apostle Islands National Lakeshore is a vacation paradise.
There are over 800 known species of plants on the islands, and the NPS says that Stockton Island is home to the largest concentration of black bears in the country. The bears are great swimmers and are often found on any of the islands.
The islands have a large concentration of sea caves, impressions carved out by Lake Superior over the millenia. Devils Island has the most striking collection of sea caves, that produce strange sounds when high waves crash into them. The eerie sounds are the namesake of the island.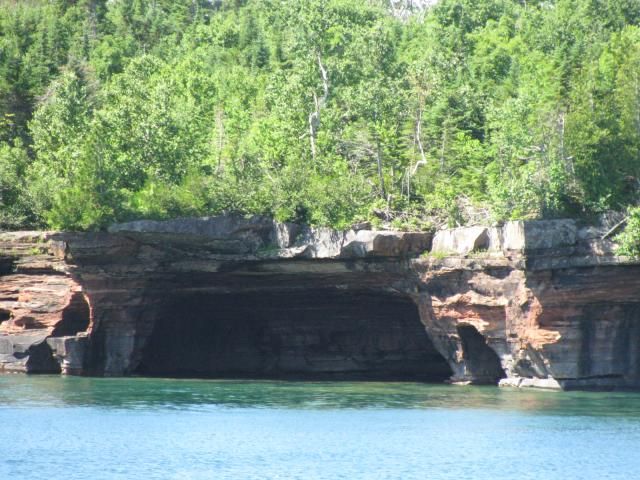 Lake Superior has sculpted sea caves into the islands, the most striking are on Devils Island.
As part of the National Park system, the islands and lighthouses are available to visitors. During the tourist season, some (but not all) of the lighthouses are manned with volunteers who will give tours. Lighthouses may be open during Bayfield's Lighthouse Festival in September, when boat tours are offered.
---
Devils Island Light Station
(Ashland County, Wisconsin)
Steel Tower Lighthouse with External Bracing, keeper's quarters and other structures
Michigan Island Lights
(Ashland County, Wisconsin)
Two lights, the original was decommisioned in 1929 when a taller skeletal tower was built
Outer Island Lighthouse
(Ashland County, Wisconsin)
One of the Apostle Islands lighthouses, first lit in 1874, automated in 1961
Raspberry Island Light
(Bayfield County, Wisconsin)
The last wood framed lighthouse on Lake Superior, automated in 1947
Sand Island Light
(Bayfield County, Wisconsin)
Norman Gothic design structure with a white flashing lighthouse