Saratoga of the West
There was a time when Waukesha was a destination, the summer home of thousands who came to partake of the healing waters, abundant in the springs. In fact, one of Waukesha's nicknames is Spring City.
The story goes that Colonel Richard Dunbar came to visit his relatives who were living in Waukesha. Dunbar suffered from diabetes, probably Bright's Disease. He developed a terrible thirst while on a ride with his wife's sister, Mrs. Elizabeth Carney. She guided him to a nearby spring where he partook of one cup, then another cup, and continued drinking the spring water. He noticed relief from his affliction. After he returned to New York, so did his diabetes.
When he returned to Waukesha the next year, the spring water again renewed him, so he bought the land with the spring and began bottling the water under the name Bethesda, after the biblical spring. He laid out Dunbar Avenue, built a spring house and very popular resort. He began selling his Bethesda water all over the county.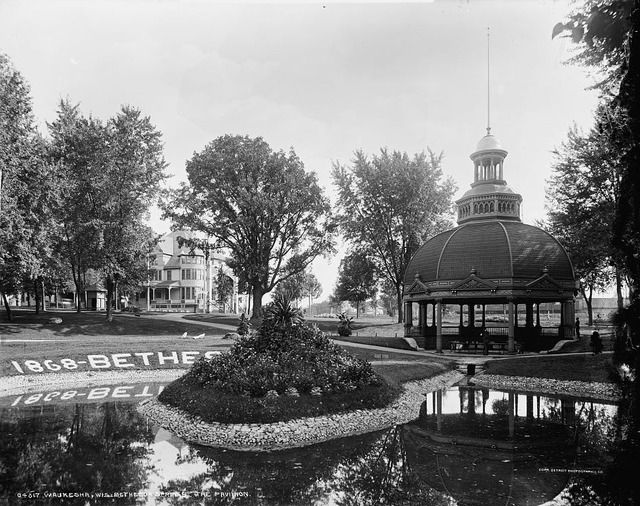 Word of the healing powers of Waukesha water spread. Chicago entrepreneur and millionaire, Richard Laflin, pledged enough money to build what would become the Silurian Spring. The hotel and casino was immensely popular, and soon resorts sprang up all around Waukesha.
The social elite from around the country came to Waukesha, known as "The Saratoga of the West" to summer in the grand resorts and partake of the healing waters. Great social events, such as the annual Pink Ball, were grand affairs for the belles and beaux.
The haven lasted for about 30 years. Along with the dawn of the automobile came changes in American society and life, and miracle drugs that actually cured the ailments that formerly were purportedly cured by Waukesha's healing waters.
Dunbar Avenue today passes Bethesda Park in Waukesha, site of Colonel Dunbar's resort. Laflin Avenue is on Waukesha's south side and is a contributing component of a NRHP historic district.
---
Arcadian Bottling Works
(Waukesha County, Wisconsin)
Former bottling plant converted to residential apartments
Grand View Health Resort
(Waukesha County, Wisconsin)
Resthaven Hotel
(Waukesha County, Wisconsin)
A Y-shape structure, built as a luxury hotel, used as a VA Hospital and now serving as a school
Silurian Mineral Springhouse
(Waukesha County, Wisconsin)
Octagonal Spring House, a Reminder of Waukesha's Past as a center of mineral water resorts and bottling.